5,391 views
Miley Ray Cyrus (born Destiny Hope Cyrus on November 23, 1992) is an American actress and singer-songwriter. Cyrus is known for starring as Miley Stewart/"Hannah Montana" in the television series Hannah Montana on the Disney Channel.
Cyrus became a sensation after Hannah Montana debuted in March 2006. Following the success of the show, in October 2006, a soundtrack CD was released in which she sang eight songs from the show. In December 2007, she was ranked #17 in the list of Forbes Top Twenty Superstar Earners under the age of 25 with an annual earning of US$3.5 million. As of December 2007, she is working on a movie spin-off of Hannah Montana, titled Hannah Montana: The Movie which release date has been recently moved up to April 10, 2009.
Cyrus's solo music career began with the release of her debut album, Meet Miley Cyrus on June 23, 2007. Her second album, entitled Breakout was released on July 22, 2008, which is Cyrus's first album that does not involve the Hannah Montana franchise. Both albums debuted and peaked at #1 on the Billboard 200. In the main article in the September 2008 issue of Seventeen, of which Miley was on the cover, she stated herself as a comedian.
In 2008, Cyrus was listed among artists and entertainers as one of Time magazine's 100 Most Influential People in The World.
Cyrus was born in Nashville, Tennessee, the daughter of Leticia "Tish" (née Finley) and country singer Billy Ray Cyrus, and the granddaughter of the late Ron Cyrus. She has two older half-brothers; Christopher Cody and Trace, the latter being the vocalist and guitarist of an electronic rock band, Metro Station in California. She also has an older half-sister, Brandi, a younger brother, Braison, and a younger sister, Noah, who is also an actress. She was named Destiny Hope because her parents believed that she would accomplish great things. Cyrus gained her nickname "Miley" because she kept smiling ("Smiley") as a youngster.
Cyrus attended Heritage Middle School and was a cheerleader, and now goes to school at a place called Options For Youth. She also has a private tutor on the set of her T.V. show. She grew up on her parents' farm outside of Nashville, Tennessee.
Cyrus was twelve years old when she originally auditioned for Disney for the lead role of Miley Stewart/Hannah Montana, as well as the show's "best friend" roles, but Disney Channel executives judged her to be too small. However, Cyrus was persistent in her desire to be part of Hannah Montana, so Disney called her back for further auditions. According to Disney Channel Executive Vice President Gary Marsh, Cyrus was chosen for the show because of her energetic and lively performance and was seen as a person who "loves every minute of life", with the "everyday relatability of Hilary Duff and the stage presence of Shania Twain". She spent several years trying to get rid of her Southern accent, but in the end Disney wanted her to revive it. Later in an unusual twist, Cyrus had to audition her own father, Billy Ray Cyrus, to see if he would fit the role as Hannah's dad. Cyrus currently stars in Hannah Montana as the lead character Miley Stewart, whose alter ego is the pop music sensation Hannah Montana. Cyrus also performs in character as Hannah Montana for albums and concerts. Cyrus also appeared in the Disney Channel Hannah Montana promotion, "Hannah Montana's Backstage Secrets", in which she portrays Hannah Montana in a fictional interview set in the show's canon.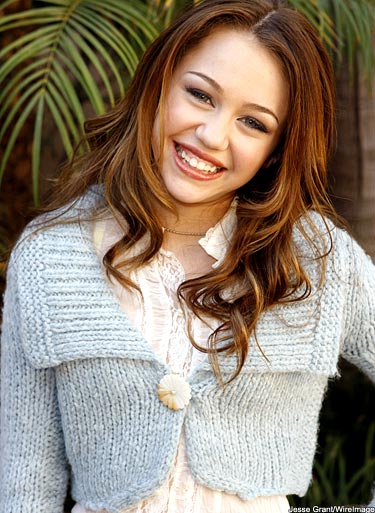 Cyrus had a brief cameo in the 2007 television movie High School Musical 2 credited as "Girl at Pool", where she danced before the end credits in front of the pool wearing a yellow baby doll top and denim Bermuda shorts. Cyrus also guest-starred as Yatta on Disney Channel's The Emperor's New School.
While attending the Harry Potter and the Order of the Phoenix premiere, Cyrus stated that they are working on ideas for a Hannah Montana movie. The feature-length film is to be produced by Cyrus's both on and off-screen dad, Billy Ray Cyrus. Hannah Montana: The Movie is scheduled for a May 1, 2009 release.
Cyrus was invited to present the song "That's How You Know" from the film Enchanted at the 80th Academy Awards. She also hosted the 2008 CMT Music Awards with her father in April. On April 9, 2008, Cyrus appeared on the American Idol fundraiser show Idol Gives Back, performing "Good and Broken". She also told the audience that it has always been one of her dreams to appear on American Idol. In August 2008, Miley hosted and performed at the Teen Choice Awards.
Walt Disney Records released the first Hannah Montana soundtrack, on October 24, 2006. The soundtrack included eight of the songs that Cyrus performed as Hannah Montana. Cyrus also signed a four-album major record deal with Hollywood Records for her own albums. The album was later re-released twice - a Holiday Edition featuring Cyrus's cover of "Rockin' around the Christmas Tree" and a Special Edition featuring "Nobody's Perfect". Cyrus also opened for The Cheetah Girls in 2006, performing on 20 dates of their 39-city tour.
On June 26, 2007, exactly eight months after the release of the first soundtrack, Cyrus released a double album, Hannah Montana 2: Meet Miley Cyrus. The first disc served as the second Hannah Montana soundtrack, while the second disc was Cyrus's debut solo album as herself. She wrote eight of the ten songs, credited by her birth name Destiny Hope Cyrus. The single "See You Again" became Cyrus's first song to enter the top ten on the Billboard Hot 100.
Just over a year later, Cyrus released her second studio album under her own name. Breakout is the first Miley Cyrus album that has no connection with the Hannah Montana franchise. The album's first single, "7 Things", became her highest charting single.
Based on a wikipedia article; Pictures taken from the internet.
Share this article in you blog
Related Posts