11,036 views
A wikipedia based biography with many pictures of Kate Hudson:
Kate Garry Hudson[1] (born April 19, 1979) is an American film actress. She came to prominence in 2001 after receiving an Oscar nomination for her role in the drama Almost Famous, and has since established herself as a Hollywood lead actress, starring in several films, including How to Lose a Guy in 10 Days, The Skeleton Key, and You, Me, and Dupree.
Hudson was born in Los Angeles, the daughter of Academy Award-winning actress Goldie Hawn and Bill Hudson, an actor, comedian, and musician.[2] Hudson's parents divorced eighteen months after her birth; she and her brother, actor Oliver Hudson, were raised in Colorado by her mother and her mother's long-time boyfriend, actor Kurt Russell.[3] Hudson has stated that her biological father "doesn't know me from a hole in the wall", and that she considers Kurt Russell to be her father.[4] Hudson has described her mother as "the woman that I've learned the most from, and who I look up to, who has conducted her life in a way that I can look up to".[5] She has three half-siblings, Emily and Zachary Hudson, from her biological father's subsequent marriage to actress Cindy Williams, and Wyatt, from her mother's relationship with Kurt Russell. Her cousin is singer Sarah Hudson.
Hudson is of Hungarian, Italian, and Ashkenazi Jewish descent,[6] and was raised in her maternal grandmother's Jewish religion;[7][8] her family also practiced Buddhism. Hudson graduated from Crossroads, a performing school in Santa Monica, in 1997. She was accepted to New York University, but chose to pursue an acting career instead of attending.[3]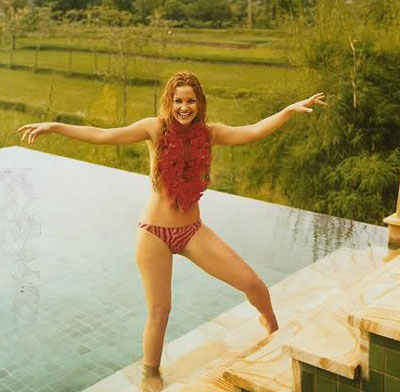 Hudson's breakthrough role was as Penny Lane in Cameron Crowe's Almost Famous (2000), for which she received an Academy Award nomination for Best Supporting Actress and won the Golden Globe Award for Best Supporting Actress.[3] She had previously appeared in the lesser-known films Gossip, a teenage drama, and 200 Cigarettes, a New Year's-set comedy with a large cast of actors. Regarding her early career and success, Hudson has noted that she is a "hard worker", and did not want to be associated with her well-known parents, wishing to avoid the perception that she "rode on somebody's coattails".[3]
Hudson turned down the part of Mary Jane Watson in the 2002 film version of Spider-Man, and instead starred in remake of the historical romance The Four Feathers, a film which was not well received by critics or audiences. Her next film, How to Lose a Guy in 10 Days, a romantic comedy, became a big success at the box office, grossing over $100 million after its February 2003 release. Hudson subsequently appeared in several romantic comedies, including Alex and Emma and Raising Helen; the films met with varying degrees of success.
Hudson headlined a thriller called The Skeleton Key in 2005. The film, which had a production budget of $43 million, enjoyed box office success, grossing over $91.9 million worldwide ($47.9 million in the US alone).[9] Her later film, a comedy titled You, Me and Dupree and co-starring Owen Wilson and Matt Dillon, grossed $21.5 million on its opening weekend of 14 July 2006, within industry expectations.[10]
In 2007 Hudson directed the short film Cutlass, one of Glamour magazine's "Reel Moments" based on readers' personal essays. Cutlass co-stars Kurt Russell, Dakota Fanning, Virginia Madsen, Chevy Chase and Kristen Stewart.[11]
In 2008, her latest film, Fool's Gold, was released on February 8th. This romantic comedy is her second film to co-star Matthew McConaughey.
Hudson is the image model for Kamiseta, a Filipino line of young women's clothing and apparel.
In 2000, Hudson married Chris Robinson, the frontman for The Black Crowes. They married on New Year's Eve in Aspen, Colorado. Hudson gave birth to their son, Ryder Russell Robinson, on January 7, 2004. The couple lived in a house that was once owned by director James Whale and traveled together during Hudson's film shoots or Robinson's music tours.[3] On August 14, 2006, Hudson's publicist announced that Hudson and Robinson had separated. Rumors swirled that the reason was Hudson's affair with Owen Wilson on the set of You, Me and Dupree.[12] On November 18, 2006, Robinson filed divorce papers, citing "irreconcilable differences".[13] The divorce was finalized on October 22, 2007.[14]
After she and Robinson separated, Hudson publicly dated Owen Wilson, her You, Me and Dupree co-star. However, the two broke up in May 2007.
Hudson has noted that she is "not very religious,"[15] and describes herself as Jewish.[16] A vocal opponent of anti-Semitism in part because of witnessing it during a stay in Paris, Hudson has said, "I'm Jewish and this was the first time I experienced real anti-Semitism. Paris was scary…there were synagogues bombed and there was anti-Semitic graffiti all over the place. I was very angry. This is something I am passionate about".[17]
Hudson has also said that she does not enjoy seeing herself on screen, specifying that she "gets cold… shakes and… sweats" when watching her performances for the first time.[5] In July 2006, Hudson sued the British version of the National Enquirer after they had stated that she has an eating disorder and described her as "painfully thin." Hudson said that the tabloid's actions were "completely inappropriate" and a "blatant lie," and specified her concern relating the impressions about weight that she feels the tabloid could have on young girls.[18]
Share this article in you blog
Related Posts